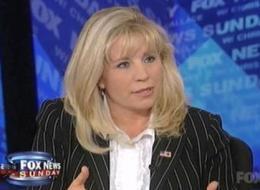 Liz Cheney, daughter of Darth Vader, I mean, Dick Cheney, is being taken to task by members of her own party who see her group Keep America Safe (cough cough) as under handed, over-the-top, McCarthy like, etc.
Now that you've all had a chance to enjoy this bit of unvarnished, unbiased info from the aforesaid group, here's what the media reports.
from
The Huffington Post
:
The backlash is growing against Liz Cheney after she demonized Department of Justice attorneys as terrorist sympathizers for their past legal work defending Gitmo detainees -- and now it's coming from within deeply conservative legal circles.
from
Daily Latest News
:
Cheney's
efforts were called "vicious" and "unfounded", by Author Paul Mirengoff, when she branded
DOJ officials the "Al Qaeda 7″, in order to to criticize
defense
lawyers
for doing work on behalf of Gitmo detainees. Mirengoff offered a sharp bawl out when reached on the phone, opposite to what
Cheney
has done to anti-communist crusades, which have been launched by Sen. Joseph McCarthy, it can still be worse than few assumptions made by Mc Carthy as per the assumptions validated by him as quoted by Mirengoff.
Cannot
wait
to hear what Stewart & Colbert have to say.
lifted from one of my favorite blogs, The Political Carnival